Conveyor Belt
| | |
| --- | --- |
| | This article may need cleanup to meet quality standards. |
This article may need cleanup to meet quality standards.
Please help
improve this
if you can. The
Discussion page
may contain suggestions.
Reason: "
Article is poorly written
"
Conveyor Belts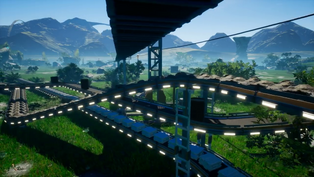 Used to move resources between buildings
Conveyor Belts are used to transport items, such as raw ores, refined materials or the engineer between 2 locations or 2 buildings. They consist of a single track that can curve around bends, as well as slant up and down. Many structures have ports in order to allow belts to be connected to these buildings.
Their vertical counterpart is the Conveyor Lift, their fluid counterpart is the Pipeline.
There are multiple marks of conveyor belt available; each mark is faster than its predecessor. When items enter a belt at a rate higher than the belt's speed, items can be compressed together. For a visual comparison of the different belt speeds, see this YouTube video from Coffee Stain Studios.
| Mark | Items/min | Speed difference | Mk.1 belt equivalent | Visual difference |
| --- | --- | --- | --- | --- |
| Mk.1 | 60 | N/A | 1 | Slim and thin. Three small LEDs every 2 meters. |
| Mk.2 | 120 | 2x | 2 | Slightly higher edge. Single but bigger LED. |
| Mk.3 | 270 | 2.25x | 4.5 | Added metal guardrail, longer LED. |
| Mk.4 | 480 | 1.77778x | 8 | Thicker appearance, higher edge. Guardrail removed. |
| Mk.5 | 780 | 1.625x | 13 | Added metal guardrail. |
| Mk.6 | 1200 | 1.53846x | 20 | Added second metal guardrail. |
Note: all types of Conveyor Belts have a different belt texture with their respective speed. The decorative lights on the sides of each conveyor belt change with every mark.
Mk.6 belts are currently unavailable in Early Access.
The maximum length a belt can span between Conveyor Poles and/or buildings is 49 meters (equivalent to 6.125 foundation lengths). The cost is approximately 1 item every 2 meters.
The maximum allowed slope (gradient) is 35° or 1:1,428. As the turning part of a belt is always horizontal, only the straight part can be sloped, and thus counted towards the gradient.
The turning radius of the conveyor belt is 2 meters. As such, when building 90 degree turns, always count 2 meters or 2 'grids' from the desired turning point of the belt. Sharper turns can be accomplished by creating short turn segments (e.g., to get past an obstruction, creating a straight segment with a 90° end, then continuing the conveyor belt as needed).
There are currently 5 marks of Conveyor Belts available in the game:
Unreleased content

This article is about an item or feature that is not currently available in public builds of the game. Its details may be inaccurate and will likely change once it becomes publicly available.
Please note that discovery and discussion of unreleased content is discouraged by Coffee Stain Studios, and forbidden in several official game communities.
There is one unreleased Conveyor Belt mark planned for future updates.
Conveyor Belt Mk.6
Transports up to 1200 resources per minute. Used to move resources between buildings.
Unlocked at
Tier 8
Category
Logistics
Subcategory
Conveyor Belts
Dimensions
Width
2 m
Length
(1-49) m
Height
1 m
Required Items
Note: Prior to being removed internally, Conveyor Belt Mk.6 could only transport 900 items per minute. That number has since increased to 1200[1], allowing for a Miner Mk.3 overclocked to 250% on a pure node to produce at maximum efficiency.
"Encroaching other's clearance"
[
edit
|
edit source
]
This error means that the belt could not be built, because it's within another building's collision box. A belt can only collide with the building it's built out from. Splitters and Mergers, on the other hand, can collide with buildings. Take note when planning the location of Splitters and Mergers.
Belt will not encroach with a building if the belt is connected to that building's input or output connector.
Belt will neither encroach with Power Lines nor other belts. Conveyor belts have no problem clipping through foundations, walls and pipes.
There is currently a glitch that when a splitter or merger is snapped to one end of a Conveyor Lift, some of its port cannot be connected to belts as it will encroach with the lift.

This glitch can be circumvented by temporarily removing the lift, connecting the belt and then placing the lift again.

A belt may be built within the collision box of the Space Elevator only if one of its endpoints is one of the Space Elevator's loading ports. Conveyor Poles and Stackable Conveyor Poles can be built inside the collision box, but attempting to connect belts to them will result in this error.
The game prevents the engineer from connecting a conveyor belt the wrong way into a building. Should the engineer not be able to connect the belt between two buildings, check if the buildings are rotated properly.
Clicking an input port on a building will create a belt that moves items into the building. Otherwise, the belt will run from the starting point to the ending point. See the image on the right to learn how to distinguish between input port and output port.
When placing belts starting from a Conveyor Pole or similar, especially Conveyor Lifts that will end in midair, it can be helpful to place a short length of belt at one of the endpoints to force the new belt to be placed in the correct direction.
You can place belts on a structure. By placing the starting point of the belt on terrain or foundation, you can end the belt on top of a building such as splitters or containers. You can even stack belts on belts directly, without Conveyor Pole Stackable.
Multiple conveyor belts can be stacked on top of each other neatly with Conveyor Pole Stackable, which is fixed at 2 meter vertical interval. By using Conveyor Wall Mount and some walls, it is possible to stack belts at 1 meters vertically apart.
Trying to land a belt on the edge of a cliff or thin structures such as on power cables will result in this message. Move the cursor around and find a flat point to build the end-pole of the conveyor belt. Else, consider building a Splitter on the cliff as it is easier to snap to odd-shaped terrain.
"The conveyor belt is too long"
[
edit
|
edit source
]
The length limit for the conveyor belts is 49 meters and it is counted in 3-dimensional length. This is exactly long enough to span 6 foundations at the same height. To fly over the belt across large gaps it is advised to build a bridge out of foundations or walkways first.
It is possible to cross belts, as belts do not collide with each other. Belts can also pass through other objects such as terrain, trees, walls, foundation, etc. A belt cannot pass through splitters, mergers, factory buildings and power poles.
Player transportation speed
[
edit
|
edit source
]
Conveyor Belts can be used to move players around. The player moves faster than the items on the belt, strangely. Belts can be built temporarily for exploration, such as acquiring Power Slugs.
The edges of the belt do not move the player, so they can be used to walk against the motion of the belt.
By using a conveyor ramp and the Jetpack, one can travel long distances with little to no setup efforts. Belts Mk.5 and above offer higher movement speed than that of the Explorer.
Approximate movement speeds for a player standing still on a conveyor belt are given in a table below. Regular running speed is 32 km/h and 48 km/h with Blade Runners.
Speed
(Standing)
Speed
(Running)
Speed
(Running with Blade Runners)
Mk.1
1.2 m/s
4.32 km/h?
TBA
TBA
Mk.2
3.06 m/s
11 km/h?
Mk.3
8.89 m/s
32 km/h?
Mk.4
16.67 m/s
60 km/h?
Mk.5
26.67 m/s
96 km/h?
Mk.6
unknown
The Conveyor Belt was first shown in the E3 trailer
On marks 1-3, the bottom texture of Conveyor Belts displays the reversed direction. Marks 4-6 have metal on the bottom, but still show the reversed direction texture when clipped through.
In the Conveyor Belt Speeds video, Conveyor Belts can be clearly heard from further away (especially higher marks), but they are very quiet in-game.
Higher tiers of belts generally have guards at the edges to protect items (and the Engineer) from slipping off the sides. Take note this does not totally prevent the Engineer though, one can be slingshot out from sharp turns.
Conveyor Belt Mk.6 is the only conveyor mark that is constructed using two different parts.
Conveyor Poles supporting a Conveyor Belt can be deconstructed without affecting the now floating Belt.
| | |
| --- | --- |
| | The history section is incomplete in this article. Please help expanding it if you can. Information can be gathered from patch notes. |
Buildings
Special
Production
Power
Logistics
Organization
Foundations

Foundations

 Foundation 8m x 1m

(

 2m

,

 4m

)  • 

 Glass Foundation 8m x 1m

 • 

 Frame Foundation 8m x 4m

 •  Pillar (

 Base

,

 Middle

,

 Top

)

Quarter Pipes
Ramps

 Ramp 8m x 1m

(

 2m

,

 4m

)  • 

 Double Ramp 8m x 2m

(

 4m

,

 8m

)  • 

 Up Corner Ramp 8m x 1m

(

 2m

,

 4m

)  • 

 Down Corner Ramp 8m x 1m

(

 2m

,

 4m

)

Ramps Inverted

 Inverted Ramp 8m x 1m

(

 2m

,

 4m

)  • 

 Up Corner 8m x 1m Inverted

(

 2m

,

 4m

)  • 

 Down Corner 8m x 1m Inverted

(

 2m

,

 4m

)

Walls
Transportation